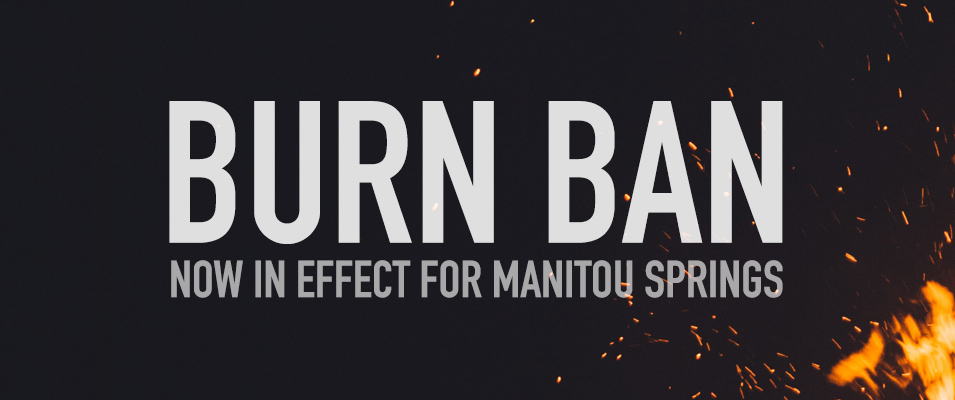 UPDATED: JUNE 6, 2018
Mr. Mayor and Members of City Council,
In order to maintain consistency across the region as it pertains to the recognition and enforcement of fire restrictions and bans, and because weather patterns continue to make worse already extreme fire danger conditions, I am ordering the following Fire Ban for the City of Manitou Springs:
1. Open Burning Ban, defined as the prohibited use of any outside fire. This includes all campfires and warming fires, all solid fuel burning fireplaces (e.g. fire pits, fire tables, and chimineas) and cooking appliances (e.g. charcoal BBQ grills, smokers and pellet BBQ grills).
This ban excludes Liquid Propane (LP) fueled or gas fueled open flame cooking devices, (e.g. LP BBQ grills or camping stoves) with a 10' separation from combustible materials, (clearance not applicable to single-family homes).
2. Outdoor Smoking Ban, defined as the prohibited use of any tobacco product or similar material in cigarettes, cigars, or pipes outdoors. This excludes smoking in enclosed buildings or structures, and along Manitou Avenue. Discarding of a lighted cigarette, cigar or pipe tobacco products is strictly prohibited.
These bans do not apply to compliant fireplaces and wood-burning stoves within private residences.
If weather patterns change the local outlook significantly one way or the other, Fire Ban will be adjusted accordingly.
John K. Forsett, Fire Chief, City of Manitou Springs